Join the
Ranks!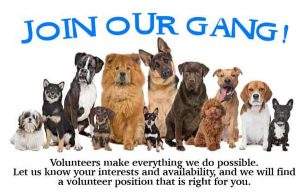 Join the ranks of some wonderful people who volunteer their time and services to help make the residents content until new loving homes are found. There is always something to do. Walking, socializing, loving, petting, cleaning.
If you don't want to work directly with the animals, there are many options that help the animals just as much, such as answering the phone, filing, data entry, follow up calls or assisting in fundraising and events like our monthly yard sales, penny socials, photos with Santa and much more. There are ALWAYS outside chores, cleaning, dishes, and laundry to be washed, dried, folded and put away.
Volunteers under the age of 16 are welcome, however a parent/guardian must stay and volunteer with them. They can also participate as volunteers by holding fundraising events on their own, such as collecting deposit cans, pennies for puppies, dollars for doggies, cash for cats and doing pledges.
Volunteers are always needed at our Petsmart Adoption Centers in Middletown and Monroe. Clean, feed, and play with our cats and kittens. Many different days and time slots are available. Mornings are generally 9-11, afternoons can be any two hour period between 3 and 9 pm. Volunteering means so much to the cats who are there waiting for a home and you'll feel great when you leave! We also need floaters – people we can call in a pinch if a regular can not cover their shift. Please check off the box below if you can help.
You must be 16 years + to submit this application. If you are under the age of 16 please have a parent or guardian complete the form for you.
For more information, call the shelter at 845-778-5115 or send e-mail to vc@waldenhumane.org.